2015•03•09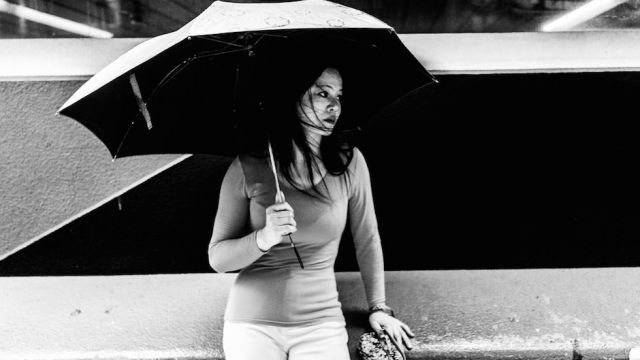 Photo: Xyza Cruz Bacani. Creative Commons BY (cropped).
A few weeks ago, a Filipina domestic worker in Hong Kong named Xyza Cruz Bacani won a prestigious 2015 Human Rights Fellowship. Awarded by the Magnum Foundation to 'champion independent documentary photography that fosters empathy, engagement and positive social change', the fellowship will give Bacani the opportunity to take an intensive course in photography at New York University and to 'explore strategies for creating effective visual stories with the aim of advancing Human Rights' in her home country.
Employed by the same family in Hong Kong for the past nine years, Bacani has used her spare time walking the streets of Hong Kong and developing her passion for street and documentary photography. Through the lens of this young migrant woman, we see powerful and poignant images of Hong Kong's everyday street life. She has also used her camera to photograph women in a shelter for domestic workers who have suffered abuse. Her photographs open up new perspectives on the city and its diverse inhabitants. Similarly, her story offers us an opportunity to see migrant women and domestic workers through a different lens.
This story captured the attention of media outlets because it stood in sharp contrast to the usual stories that emerge on the abuses that domestic workers around the world suffer, the lack of respect for their basic human rights and their experiences of exploitation. It offered a different narrative on female migration: one of transformation and empowerment. Bacani is an artist first and foremost, a young woman with a passion and a camera; she also happens to be a migrant domestic worker but that does not define her. She is a migrant woman who has succeeded in developing interests beyond her working life abroad and to break free of labels. Such labels can be constraining as migrant women are stereotyped in simplistic and derogatory ways.
The transformative potential of migration for women and the new opportunities for creativity and freedom that it could offer is a side to the story that is less often heard. Both sides of the story are necessary. In many countries around the world, live-in migrant domestic workers have restricted mobilities and are often not given a weekly day of rest. Poorly protected by labour laws, it is often left to employers to determine the conditions of life and work for the domestic workers they employ. These restrictions mean that many migrant women are often far removed from the worlds of opportunity that might otherwise be available to them.
The struggle to have domestic work recognised as work is central to this discussion. Historically and culturally, this type of labour has been undervalued and poorly recognised worldwide. Domestic workers associations, advocacy groups and the international community have been working to change the perception of this work, to draw attention to the vast human rights abuses that occur within this sphere, and to transform the conditions of life and work for domestic workers for the better. Ending violence, respecting their rights and promoting decent work are key if they are to have the freedom and space to pursue their wide-ranging aspirations.
Years of campaigning have led to a milestone in furthering the rights of domestic workers through the Domestic Workers Convention, a treaty adopted in 2011 by the International Labour Organisation and which entered into force in 2013. The Convention is legally binding for signatory countries (of which there are currently very few) and provides a much-needed international normative framework that will 'extend the labour and social rights of some 53 million domestic workers around the world'. While this has been an important step in the international recognition of domestic work, there are vast challenges yet to be addressed on the ground, particularly in regions where domestic work is poorly viewed.
In my fieldwork with domestic workers in different cities over the years, I have encountered numerous grassroots initiatives that seek to transform situations of exploitation from the bottom-up. One example is the Day Off Campaign in Singapore, which through research and advocacy efforts among international and non-governmental organisations, has succeeded in legislating a mandatory day off for migrant domestic workers. Another example is the National Domestic Workers Movement in India, a grassroots organisation that lobbies for policy and legislative measures that better protect domestic workers at state and national government levels. These initiatives are global: in Hong Kong, domestic workers make their voices heard through protests in public spaces for changes to their conditions of work; in Lebanon, a domestic workers' union was recently launched; and in the United States, theatre and the arts offer domestic workers channels for self-expression.
Even when not engaged in labour activism or collective advocacy initiatives, migrant women independently pursue varied creative, spiritual and educational projects that enrich them; develop relationships with people of different cultural backgrounds; and seek out new experiences and opportunities to make their migrant journeys empowering. Guaranteeing their rights to rest and to leisure, supporting their uses of public spaces and skills and educational classes are crucial policy measures in this regard. Through these stories, we see that domestic workers hold multiple identities and aspirations: they are, and have great potential to be, agents of change in their own lives and in the wider societies to which they belong and contribute. It is crucial to recognise their agency in this process of positive transformation, so that stories like Bacani's are more common.
This year, the United Nations University Institute on Globalization, Culture and Mobility (UNU-GCM) will launch a series of policy reports as a part of its research programme on Female Agency, Mobility and Socio-Cultural Change, examining women's experiences of migration in different contexts of mobility. UNU-GCM also coordinates the UNU Migration Network, which has global expertise on gender and migration. This is a timely discussion in the light of current international efforts to shape the post-2015 development agenda, the 20th Anniversary of the Beijing Platform for Action to advance women's rights and recent efforts such as UN Women's HeForShe campaign, which all seek to promote solidarity in the struggle for gender equality and to further a universal project to ensure dignity and equal opportunities.