2015•12•18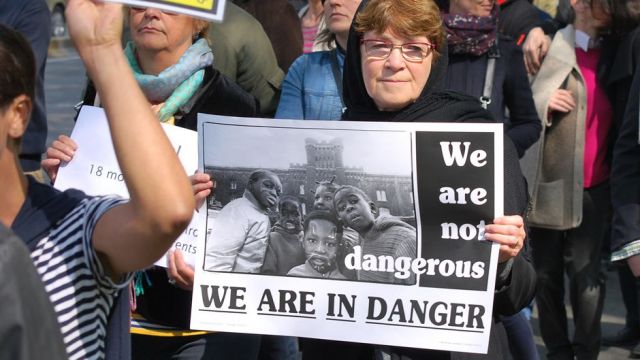 Photo: Amnesty International. Creative Commons BY-NC (cropped)
In honour of International Migrants Day on 18 December, the UNU Migration Network has released the following very compelling statement highlighting some of the most important migration concerns that must be addressed by future policies.
The events of 2015 have brought unprecedented media and political attention to migration. With the rise of migration across the world and the difficulties that governments encounter in integrating migrants successfully and guaranteeing them dignity, a parallel, unfortunate phenomena is also increasing: prejudice and extremist attitudes towards migrants. Particularly in contexts of crises —war, conflicts or socio-economic hardship — some individuals, either because they feel vulnerable or because diversity is something with which they are uncomfortable, cannot find responses other than violent and discriminatory expressions of their frustration. Therefore, prejudice has heightened in many places as it has the perception that migrants are responsible for the increasingly challenging environment in which they live. Examples of this are the variety of attacks on refugee centres in many parts of the world, from Sweden to Pakistan to Italy.
Prejudice and extremist attitudes towards those perceived as outsiders are poisoning the socio-political climate of host societies across the world and can represent dangerous paths through which both violence and discrimination could seriously become part of "normalized" way of dealing with the unknown. Therefore, it is crucial that host countries strongly engage with different, innovative and constructive approaches to migration in order to positively integrate migrants, thus contributing to showing migration as an enriching aspect of contemporary societies rather than challenges to their welfare. This will avoid increasing extremist attitudes of a variety of factions, from neo-fascism to fundamentalism, which are mutually reinforcing and represent important global security threats nowadays, as a variety of terrorist episodes of different matrixes have shown.
In this light, more space for intercultural dialogue should be granted in the public spheres of all countries through well-informed global, national and local policymaking and media, which need to prioritize the respect of human rights and human dignity.
Integration is a multi-dimensional process that involves economic, social, cultural and psychological domains of people's lives — to name just a few. For migrants and refugees alike, labour market integration tends to be the most crucial starter of the integration process on all of these fronts. Access to the labour market for migrants can be affected indirectly, for example by education policies that can impact the pool of skills that may or may not match current labour market needs. When successful, labour market integration enables migrants to become self-reliant and provide for their families, fosters a sense of self-worth, helps to build a social network and learn about the culture and mentality of the country in which they are living.
Needless to say, migrants' and refugees' labour market participation is also beneficial for the economy and socio-cultural enrichment of their receiving societies through the diversity that it brings to the workplace and beyond.
Respecting the labour rights of migrants and guaranteeing decent working conditions are fundamental in efforts to improve the overall wellbeing of migrants. Particular attention should be given to migrant men and women who are working in precarious sectors of the economy where exploitation and labour abuses are rife, for example, construction work or domestic work. It is important to recognise the valuable skills that migrants bring and that their labour is crucial to sustaining economies and societies across the world.
While there is no magic formula guaranteeing successful labour market integration for all, facilitating labour market access through the provision of the right to work upon arrival and support measures facilitating acquisition of local language(s) are the necessary foundations for enabling newcomers to begin integrating. Another important measure is having a comprehensive system concerning the recognition of foreign qualifications with facilitated access to top-up courses or training programs that may be needed for getting some foreign certificates recognised.
Mentorship and networking schemes have proven effective for fostering social inclusion that, in the long term, is indispensable for migrants' and refugees' wellbeing. Whether facilitating contacts between migrants and locals of the same professional background or connecting newly arrived to local residents or established migrants who could act as cultural mediators, such schemes help to equip migrants with soft skills vital for navigating professional and social environments of their host societies.
Cities are the places where questions around migrant inclusion will be urgently and tangibly addressed in the years to come. As internal and international migrants converge in cities to find work and to build new homes and livelihoods, local governments are going to play an increasingly central role in developing policies that take into consideration the human rights of migrants and their inclusion into economic, social and cultural spheres of urban life. Acknowledging the rich opportunities for intercultural exchange that migration and diversity bring is an important first step.
The response to these current migration concerns should not be made in 'crisis mode', but rather in the promotion of coherent and holistic policies that recognise the complex linkages between migration and development, between development and conflict, and between conflict and mobility. The UN Sustainable Development Summit this pastSeptember saw the formal adoption of the 2030 Agenda for Sustainable Development. The Agenda presents 17 goals and 169 targets to stimulate action from 2015 to 2030, and migration features as a cross-cutting theme through a variety of the goals.
Migration is an everyday reality, not a temporary deviance from the norm, therefore it is essential to formulate coherent policy responses that maximize human well-being alongside social, cultural and sustainable development. Specific migration policies affect the direction, scale and composition of migration flows, and other policies, such as those related to labour or education, will impact integration. As we celebrate migrants on 18 December, we recognize their human dignity and commit to striving towards policy responses grounded in human rights that will be beneficial for all.