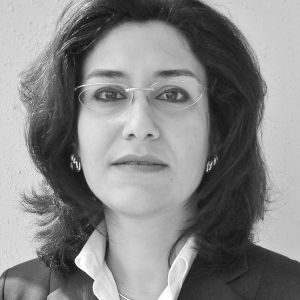 Sally Khalifa Isaac is Associate Professor of Political Science (International Relations) at the Faculty of Economics and Political Science, Cairo University, Egypt.
She holds a B.Sc. degree in Political Science from Cairo University (2001), and a Ph.D. degree in International History from the Universita' degli studi di Milano, Italy (2006). Isaac has been a Research Fellow at the NATO Defense College (2010), the Kolleg-Forschergrupe KFG of the Freie Universitaet Berlin (2011-2012); the Center for Middle East Politics at the Freie Universitaet Berlin (2013); and the Istituto per gli studi di Politica Internazionale ISPI in Milan (2014). She has previously collaborated with USAID, Cairo; Friedrich-Ebert-Stiftung, Cairo; MAEM-MENA Association, Italy; DAAD in Cairo; and is a contributor to the UN Arab Human Development Report (AHDR) 2009 and the UN Egypt Human Development Report (EHDR) 2010.
Isaac is a Middle East specialist with a particular focus on strategic and security studies in the MENA region. Her publications tackle mainly Euro-Arab relations, US-Egyptian Relations, NATO-Arab partnerships, Inter-Arab relations, and Egypt's domestic and foreign policies.
Isaac is an Egyptian national and speaks Arabic, English and Italian fluently.