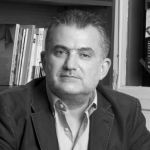 Salam Kawakibi is the Deputy Director and Director of Research at the Arab Reform Initiative (ARI). He develops, coordinates and follows-up on ARI's research projects, including the groundbreaking regular reports on the State of Reform in the Arab World. He is a leading commentator on political reform in the Arab world, writing essays, research papers and policy analysis for the Arab Reform Initiative and other organisations.
Salam Kawakibi is the President of Initiative for a New Syria, associate researcher at Centro de Estudios y Documentación Internacionales de Barcelona (CIDOB), Senior Fellow with the Centre for Syrian Studies at the University of St Andrews, nonresident fellow with the Rafik Hariri Center for the Middle East at the Atlantic Council and a member of the Consultative Council of the Mediterranean Citizens' Assembly (MCA). He teaches in the Masters programme on Development and Migration at Université Paris 1 Panthéon-Sorbonne. Between 2009 and 2011, he was principal researcher at the Faculty of Political Science of the University of Amsterdam and between 2000 and 2006, he was director of the Institut Français du Proche Orient (IFPO) in Aleppo, Syria.
Salam has published numerous essays in edited volumes and specialized journals in Arabic, English, French, Spanish and German. Topics include human rights, civil society, migration, media, North-South relations, and political reform in the Arab World. Recent publications include "Activism in Syria: Between Nonviolence and Armed Resistance" with Wael Sawah in Taking to the Streets: The Transformation of Arab Activism (Johns Hopkins, 2014), "The Paradox of Government-Organized Civil Activism in Syria" inCivil Society in Syria and Iran (Lynne Rienner, 2013), "Turkey-Syria Relations Before and After Arab Uprisings" with Aylin Ünver Noi in Islam and Democracy: Perspectives on the Arab Spring and "Syria's Mediterranean Policy" in Mediterranean Policies from Above and Below (NOMOS, 2009). He was also editor of "Religious Reform" (IFPO, 2003) and "Syrian Voices from Pre-Revolutions Syria: Civil Society Against all Odds" (Hivos, 2013).
He holds a DEA in Political Sciences from l'Institut d'Etudes Politiques, Aix-En-Provence, a DEA in International Relations from Aleppo University and a BA in Economy from Aleppo University.