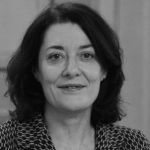 Anna Terrón Cusí is Chair of UNU-GCM's Advisory Board. She is currently a Managing Partner at InStrategies. Her career in the public sector has primarily focused on the European Union and international affairs. Internationally, she has developed much of her activity in the Middle East and Maghreb, and in the Atlantic Africa and Latin American regions. International migration and human mobility have been her fields of specialization.
She is former Secretary of State for Immigration and Emigration of the Government of Spain (2010-2011) and former Secretary for the European Union of the Generalitat de Catalunya and the Catalan Government Delegate to the European Union (2004-2010). She has been a member of the Committee of the Regions (spokesperson at the Commission on Citizenship, Governance, Institutional and External Affairs) and member of the European Parliament (1994-2004). She was member and spokeperson of her political group (1999-2004) of the Civil Liberties, Justice and Home Affairs Committee, and member of the Foreign Affairs Committee.
She has been appointed Special Advisor to Commissioner Cecilia Malmstrom on migration and Mediterranean issues.
She holds a Political Science and Public Administration Degree.